The 28th Andrew Whyte Memorial Lecture Sunday 26th November 2017
The 2017 Andrew Whyte Memorial Lecture was once again a sell out at the Visitors Centre in Castle Bromwich, Birmingham. This full house was entertained by a total of five speakers.
First up was Dave White. His title at Jaguar is Fully Autonomous Vehicles Team Lead and he is an authority on Driverless Cars. Jaguar is looking into all aspects of this trend, which is bound to affect us soon and indeed Jaguar now have permission to test Autonomous Vehicles on public roads. Dave told us that there are many technical barriers to overcome, but eventually driverless cars will be commonplace on our roads.
Then we had a double act. This consisted of David Bond, Vehicle Engineering Manager – Sportscars at Jaguar and Paul Alcock, Senior Launch Manager at Jaguar. They were talking about the new 2 Litre F-Type. What an amazing car this is! All Jaguar Sports Cars have had large engines until now. The new 2 litre petrol engine produces 300 PS and this gives the car a 0-62 mph time of 5.4 seconds and top speed of 155 mph. – excellent figures. The videos shown in the Visitors Centre Auditorium by Paul and Dave were excellent and were really impressive.
Next we had Tony Merrygold from the Jaguar Daimler Heritage Trust. Tony is a regular at Midland Area Meetings, and he gave us a really first class insight into the new look JDHT and future plans. Without a doubt the JDHT is in safe hands with Tony and the rest of the team. This was a great presentation.
Finally we had our "Star of the Show" Michael Quinn.
Michael is Sir William Lyon's Grandson and also he was Managing Director of R.A.Creamers in Kensington, possibly the most famous Jaguar dealer in the world as they used to supply and service the Royal Cars and many cars of the "rich and famous". Michael's talk featured material that had never been seen before regarding Sir William Lyons and Creamers. It was a fascinating insight into the private life of one of the most famous entrepreneurs in the motoring world. A really fantastic talk enjoyed by all.
More detail can be found at XclusivelyJaguar website (Link)
Also see Gaynor Cauter's report in JDC Magazine, January 2018, page 22.
The 27th Andrew Whyte Memorial Lecture Sunday 27th November 2016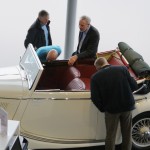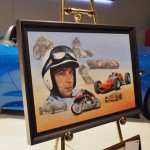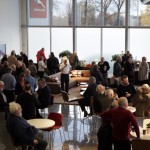 The plan was for John Surtees CBE, to speak about his life and career as the only man to have been both 500cc Motorcycle Champion and Formula One Champion! Unfortunately he had to cancel at the eleventh hour due to illness, but in one deft move, Bob Beecham seamlessly replaced John Surtees with Don Wales! All credit to Bob for his unflustered handling of this difficult predicament, which saved a lot of disappointment!
Don Wales, grandson of Malcolm Campbell, and nephew of Donald Campbell, was due to speak next year, but stepped into the breach to deliver an amazing talk on the life and achievements of Malcolm and Donald Campbell from a very personal perspective.
Other speakers were Kevin Riches, who delivered an excellent talk on the XKSS continuation cars and Nick Hull, who gave us a detailed insight into Jaguars design history.
As part of the team working for Jaguar Classic on the XKSS continuation cars, Kevin Riches was able to convey a detailed description of the building of these cars. Having been in the fortunate position of attending a former lecture where David Fairbairn gave a similar talk on the Lightweight E-type continuation cars, this became a highly relevant topic, fitting the pieces of the Jaguar historical jigsaw together!
If you were unable to attend the lecture, and are interested in the history of Jaguar design, I can recommend Nick Hull's book which covers design, from the first sidecar to the present day. Produced by Porter Press International, to their exacting standards of high quality, and forwarded by Ian Callum, it amounts to over 500 pages with some pictures which you will not have seen before! The design process is explained, along with the flow of the bloodline through the decades, as it is subtly blended by each consecutive designer. Whatever Jaguar you own, you will not be disappointed with the analysis and detailed coverage of the design process that went into producing your particular model.
The raffle in aid of the Henry Surtees Foundation included a copy of Nick Hull's book 'Jaguar Design – A Story of Style' which I knew I was unlikely to win, so I purchased a copy, signed by Nick on the day!
Auction in aid of the Henry Surtees Foundation*
A drawing of the famous Alpine Cup winning XK120, NUB120, completed during the lectures by Greg Whiteman. I was so impressed with this, that I intend to commission a drawing of Opium, to join my painting of Brucie, by Thomas Ahlander.
Number 17 of a limited edition print run of 50 taken from a painting by official Jaguar artist, Stuart Spencer, depicting Norman Dewis in the Jabbeke XK120, signed by artist and driver triggered a bidding war between Rob Jenner and John Burton! Happily, Rob won, and Roger Kemp snapped a shot of us, the happy auction lot winners, with Norman!
As the main speaker was to have been John Surtees this year, a unique painting of John Surtees by the official Jaguar artist, Stuart Spencer, had been commissioned for auction at the event.
*The Henry Surtees Foundation
Inspired by Henry, his experience, and in celebration of his life; HSF aims to:
assist people with brain or physical injuries caused by accident to return to community living by the provision of support for equipment and facilities;
provide education and training associated with motorsport-related programmes in technology, engineering, and road safety instruction for two and four wheels;
act as a resource for young people up to the age of 18 by providing advice and assistance and organising programmes of physical, educational and other activities in order to:
advance young people in life by helping them to develop their skills, capacities and capabilities so that they can participate in society as independent, mature and responsible individuals;
advance their education; and
relieve unemployment.
Letitia Mace; Xclusively Jaguar November 2016
The 26th Andrew Whyte Memorial Lecture Sunday 22nd November 2015
Once again this prestigious event was hosted by Jaguar Land Rover at their Visitor Centre, Castle Bromwich. The event, now in its 26th year celebrates the life of Andrew Whyte, Jaguar's first Historian and former Public Relations Officer. Proceeds from the event support various charities including the NSPCC and Macmillan Cancer Support.
Approaching 200 people attended and, hopefully, were entertained by our speakers. Changes within Jaguar meant that we had to utilize 'in house' caterers this year which we hope were found satisfactory.
Dave Shaw, the Vehicle Engineering Manager for the new Jaguar F-Pace was our first speaker. Dave's informative talk outlined the design process for the car, its intended market niche, and with the range of options available where it stands against the competition. Significant was the body, formed from a high percentage of recycled aluminium which gives this 'practical sportscar' rigidity & lightness. This new innovative car is bound to be a hit with customers in this sector.
Simon Mitchell and Paul Bridges from Jaguar Heritage spoke about the new Jaguar Classic Parts operation set up to produce new body panels, initially for the E Type, that will be fit for purpose and consistent. To achieve this the team have acquired unmolested vehicles to deconstruct so that components can be laser scanned, and the data converted into three dimensional CAD to aid the manufacture of new tools. This should ensure that if you buy new panels from Jaguar Heritage it will fit without further work, which is not always the case with a lot of current repro panels. This was a really interesting session that brought a lot of questions from the audience.
After coffee the popular raffle took place which this year raised over £700 for charity. Brian Ekin donated a limited edition signed print which was auctioned, and bought by Trevor Groom for £150. Many thanks to Trevor and Brian.
Our fourth speaker was Norman Dewis OBE. Norman entertained us with anecdotes about the development testing for the Mark X, particularly the trials and tribulations associated with organising a high mileage continental test route based around Bayonne, France. He really is a remarkable man, he's 95 years old and still as sharp as he was many years ago. Long may he continue to both inform and entertain us. Our final speaker was Simon Taylor, the BBC Motor Sport commentator and magazine owner and editor. Simon was outstanding, he seems to know everyone in motor sport and has literally been to every Grand Prix for the last 30 years. He spoke in a very entertaining manner, and his anecdotes were excellent. The round of applause at the end of his talk was deafening, super stuff.
Brian Ekin said a few words to close, thanking the guest speakers and all those involved in the event, not least Jaguar Land Rover for the use of their facilities. The date for next year's event will be Sunday 27th November, and it is hoped that John Surtees OBE will be the main speaker.
The 25th Andrew Whyte Memorial Lecture Sunday 23rd November 2014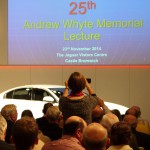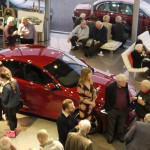 Once again the lecture took place at the Jaguar Visitor centre starting with refreshments at 1.00pm. This year saw four sessions with outstanding contributor's speaking on various aspects of Jaguar and its history.
Firstly we returned to the 1960s and the Lightweight E-Type. Martyn Hollingsworth and David Fairbairn are in charge of building six cars to complete the original proposed eighteen cars. Martyn, who is project manager, went through all the work involved in finding the original specifications and transferring this information to computer software and then building the car. The cars will be produced, at Browns Lane, using the same manufacturing techniques as for the original. The first is due for delivery in February 2015.
David, who has also been involved with other Jaguar projects including the CX-75, said that the cars were not to be built for the showroom, but were meant to be driven and raced. Of the 40 to 60 enquiries for the car, they have chosen prospective owners who can fulfil these objectives. The session finished with a short film about the project.
Continuing with Jaguar history, Jonathan Heynes, the son of Bill Heynes, provided a history of his father's involvement with Jaguar. This included old photographs of the many events in which his father had been involved. How he had come from Humber cars and worked on the development of Jaguar engines and cars and especially XK engine. His time at the factory, which saw work on the Whitley bomber, the spitfires and the first jet fighter, the Gloster Meteor.
After the war, his working on many projects, including the racing C-Types, D-Types, and then the saloon cars and rally cars. He was of course involved with the E-Type and Jonathon still drives his father's E-Type which was used for testing and evaluation.
At this stage, being filled with so much knowledge, there was break for refreshments before Bob Beecham paid a brief tribute to Andrew Whyte. At this point Bob held the raffle and the auction of a Stuart Spencer painting of a Lightweight Jaguar E-Type signed by those involved in the project. All this increased the funds raised for charity by this event. Following this we moved to the present and the new Jaguar XE saloon.
 The Jaguar XE project was introduced by Nick Miller who explained the background to the car and how it has been developed. The car will be one of the most efficient in the world using more aluminium and newly designed diesel engines together with petrol versions. Externally it is low, yet still has a roomy interior cabin filled with many advanced features.  The car will be produced in Solihull at the largest aluminium plant in Europe which has 613 robots and when production starts the plant will be able to produce a car in 78 seconds!
To finish, Quentin Willson provided a background to his love of Jaguar cars which arose from meeting Andrew Whyte after he had entered a Jaguar competition. He was invited to the factory, arrived in a Daimler 250 SP and met Andrew who admired the car. They then built up a friendship over many years.
Over the years, Quentin has met many of those involved with Jaguar, all who have been friendly and helpful. He has also driven and tested many Jaguars and knows that Jaguar values the honest opinion of their products. He thinks Jaguar is unique in the world of cars and says that the cars are created by people – robots do not make cars – people do.
To finish Brian Ekin paid tribute to Jaguar's Nick Scheele who had died in 2014, and thanked Bob and the speakers who had made this a memorable day for us Jaguar enthusiasts.
 Michael Driver November 2014
Intellectual property of Area 7 of the Jaguar Drivers' Club