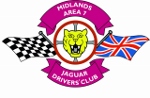 Group meetings are held on the first Wednesday of each month. Doors open at 7.30 for an 8.00 start unless specified differently, and all guests are encouraged to participate in the on the night raffle. The venue is the function room, which we are happy to share with other Jaguar enthusiasts, at the Jaguar Social Club, Browns Lane, Coventry CV5 9PS (link)
---
JANUARY 3rd
Noggin and natter
---
FEBRUARY 7th
Emma Airey: RH Specialist Insurance starting at 7:30
Our first speaker event of 2018, was an informative talk, by Emma Airey, of RH Specialist Insurance, now part of the Hiscox Group.
---
MARCH 7th
A presentation by Calum McKechnie, Jaguar Land Rover Classic Global General Manager for Parts and Accessories
This meeting was a talk by Calum McKechnie who has recently been appointed as the new Parts Manager at Jaguar Classic. Calum has a wealth of experience with sourcing parts and his last appointment was as European Marketing Operations Manager with Harley Davidson. The Classic Jaguar Fraternity has been lucky in that it has been well served by many Jaguar parts suppliers, but as many will know some of those parts have been less than perfect. Also of course with so many Jaguar models a lot of very important parts are no longer available. Calum and Jaguar Classic aim to produce many more parts to add to those already produced and all of those Jaguar sourced parts will be made to the original Jaguar specification or better. Calum has been given a large budget to work with and this will be especially useful as in some cases quite large quantities of parts need to be bought as it is not economical or indeed viable to produce small batches with many manufacturers. Calum gave us a great talk and we can have a lot of confidence in the future of parts supply. Many thanks Calum for an excellent evening.
---
MARCH 18th
Jaguar Spares Day. NAC Stoneleigh
---
March 23rd – 25th
Restoration Show, NEC
---
APRIL 4th
Presentation by Graham Wilkins, Jaguar E-Pace And I-Pace
Graham Wilkins is the Chief Product Engineer on the E-PACE, but the April meeting will cover both E-PACE and I-PACE, two new Jaguar models both being special in their own way. The E-PACE is the new smaller SUV which will supplement the very successful F-PACE. The I-PACE is the new all electric car, which is a complete departure for Jaguar so we are present at the making of history. We are hoping to have an I-PACE at the meeting, but if that's not possible, a new E-PACE. This will be a great opportunity to hear about 2 brand new Jaguar models, don't miss it!
---
April 22nd
Drive it Day
---
MAY 2nd
Tour of XK Engineering,Shilton
---
JUNE 6th 
Talk by John Ward, Lightning Pilot
We are returning to an aviation theme for the June meeting which seems to be a popular subject amongst members. John Ward is a former English Electric Lightning Pilot who gives talks on the Lightning and fast jets. Should be excellent!
---
June 10th
E-Type Day, Prescott Hill Climb
---
JULY 4th
Run to the Pub – Red Lion, Hunningham
---
AUGUST 1st
Concours at Stoneleigh Deer Park Golf Club
---
August 5th
JDC National Day at Woburn Abbey
---
SEPTEMBER 5th
Talk by Julian Barratt of SNG Barratt (Jaguar Spares)
---
SEPTEMBER 9th
Jaguars at the Castle
Come along to Warwick Castle. Only £15 per Jaguar/Daimler car including  2 passengers. Additional passengers £5 each. Includes standard access to castle. Also 100th Birthday Avro Lancaster Flypast.
---
SEPTEMBER 16th
Hinckley Classic Car Show
---
OCTOBER 3rd
Bob Beecham on Jaguar History
---
NOVEMBER 7th
Rob Cooney of Jaguar SVO
Rob will be talking about XE SV Project 8 – the fastest Jaguar yet!
---
NOVEMBER 25th
Andrew Whyte Memorial Lecture (link) 
Please see the link for all the details
This year doors will open at 12pm so that the event can start at 1pm.
---
DECEMBER 5th
Annual General Meeting
---
DECEMBER 15th
Area 7 Christmas Dinner
 It will be held at the Strawberry Bank Hotel, Meriden, and we hope to have a magician again.
---
 Intellectual property of Area 7 of the Jaguar Drivers' Club.